Ask for JOE or GEORGE MILLS
email: pizzaovens@aol.com .. phone: (734) 469-4504 .. fax: (734) 469-4508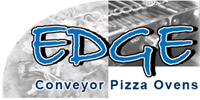 It is important to select the right tool for the job.
We can help you determine which Edge Conveyor Oven model would be most appropriate for your application.
Most Important Considerations
The two most important considerations in determining which Edge Conveyor Oven best fits your needs are:
The amount of floor space available

The anticipated hourly production required.
Accessories/Options
All models are available with options and accessories.

Pizza Equipment
pizza ovens
pizza prep make-line tables
pizza prep accessories
mixers
dough sheeters
custom stainless equip
shelving
walk-in coolers
ventilation options
and the list continues...

Restaurant Equipment
fryers
professional ranges
convection ovens
broilers
glass door merchandisers
glass door freezers
reach-in refrigeration
chef bases
food prep tabels
under-counter / worktops
milk coolers
deli cases
under bar refrigeration
and much more...

Bakery Equipment
professional ovens
ranges
mixers
merchandisers
slicers
dough sheeters
accessories
just tell us what you need...

Refrigeration Equipment
food prep tables
deli cases
chef bases
undercounters / worktops
underbar refrigeration
reach-in refrigeration
milk coolers
glass door merchandisers
glass door freezers
too many choices to list...
CALL TODAY !!

Joe and George Mills
Representing J&G Mills Equipment, LLC
Pizza Shop Layout and Design Services.
Ventilation Issues Solved!
New
Reconditioned
and Used
Pizza Ovens
Dough Mixers, Sheeters, Rollers
New
Make-Lines, Prep Tables,
Pizza Warmers
New
Refrigerators, Freezers,
Glass Door Merchandisers,
Coolers, Deli Cases
For questions or information about Pizza Equipment, Restaurant Equipment, or other content found on this site, please send mail to pizzaovens@aol.com.

Copyright 2019, Site and content are property of J&G Mills Equipment LLC.
All logos and trademarks are owned by their respective owners.

Pizza Ovens New Used and Reconditioned, Mixers, Ranges, Fryers, Grills, Broilers, Convection Ovens, Ice Makers, Walk-In Coolers, Refrigerators, Freezers, Merchandisers, Coolers, Deli Cases and much, much more. We Also Ship Complete Pizza Shops Nationwide, Layout And Design Services Are Provided.
What are you shopping for? We can help: pizza ovens, pizzaovens, used pizza ovens, conveyor pizza ovens, ovens, pizza equipment ,mixers, pizza prep ,pizza supply, restaurant, ranges, fryers, grills, broilers, convection ovens ,ice makers, walk in coolers, refrigerators, freezers, merchandisers, coolers, deli cases, shelving, pizza shops, layout and design.